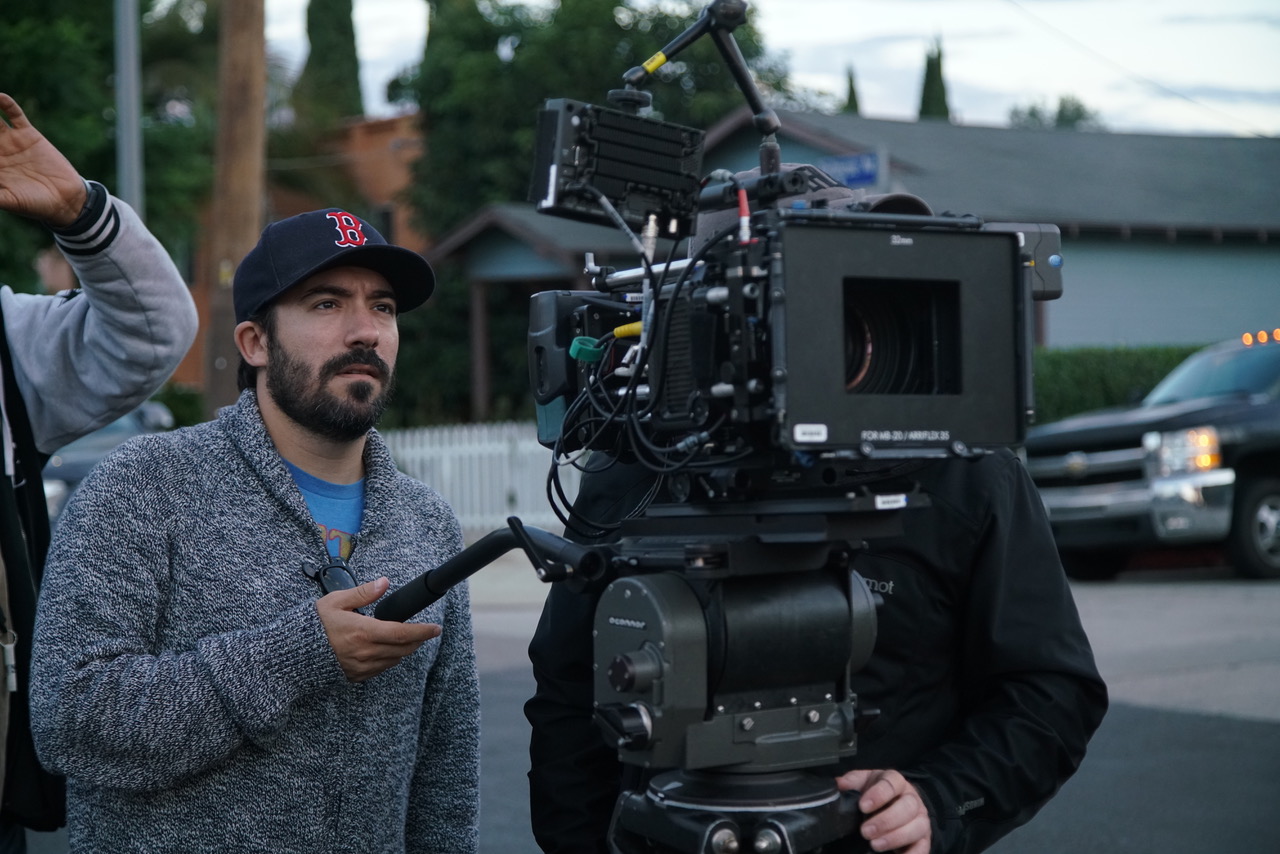 June 2019 Filmmaker of the Month
Our June 2019 Filmmaker of the Month is Eric Bilitch. Bilitch is a director, writer, editor and producer with years of experience in film, theatre, television, and digital entertainment. After graduating from The Los Angeles County High School for the Arts (LACHSA) and Syracuse University, Bilitch spent many years as an actor in regional theatre and national tours, such as the Broadway tour of The 25th Annual Putnam County Spelling Bee. He founded the Los Angeles non-profit theatre company, The Mechanicals Theatre Group, and produced over thirty full scale productions with the Ovation winning ensemble, while also running the educational outreach for the Group in conjunction with LAUSD. Bilitch directed many theatre productions, including Moonchildren, Merrily We Roll Along, The Tooth of Crime, and The Last Days of Judas Iscariot.
Bilitch started his film career as a Staff Writer and Creative Executive at Jesse Dylan's production company, Wondros, where he worked alongside directors such as Antoine Fuqua, Mark Pellington, and David O'Russell and under the guidance of legendary music video producer, Anne-Marie Mackay. While at Wondros, Eric wrote and produced for many A-list talent including Mark Wahlberg, Jason Schwartzman, Ken Jeong, John Legend and Elizabeth Banks, while producing and developing digital content all over the world for organizations such as TED, Stand Up To Cancer, ONE Africa, Clinton Global Initiative, The Gates Foundation, and more; and working with the above mentioned directors on their feature film projects.
Upon leaving Wondros, Eric created, wrote, and directed the web series, Professional Friend, which appeared on many year-end best lists- including Tube Filter and Video Ink. It also won Series of The Year at the Independent Series Awards. Many of Eric's other short film and music video projects have appeared on NPR, MTV, Huffington Post, PBS, Buzzfeed, and more. Eric co-wrote and directed the feature film, The Submarine Kid, starring Finn Wittrock, Emilie de Ravin, Matt O'Leary, Jessy Schram, Jared Abrahamson, Jack Coleman, Nancy Travis, and Michael Beach, which premiered at The Napa Valley Film Festival, was released by Mar Vista Entertainment and enjoyed a worldwide run on Netflix. Bilitch's second feature film as writer/director, Locating Silver Lake, starring Josh Peck, Aubrey Peebles, Finn Wittrock, Amaury Nolasco, Valerie Cruz, Zelda Williams, Robbie Kay, and Dan Lauria played over a dozen festivals in 2018 including Edinburgh International, Calgary International, Cinequest, Newport Beach, Florida, Phoenix, Breckenridge, and many more. Locating Silver Lake was released by global distributor Gunpowder & Sky in March 2019.
Most important of all- Bilitch has two amazing children- Vera and Theodore.
Bilitch is represented by Deborah Del Prete at Cohesive Entertainment Group and Marc Von Arx of Nelson Davis, LLP.
Filmmaker Interview with Eric Bilitch
Tell us your backstory. How and why did you get into the filmmaking?
I started out as an actor. I went to an arts high school (LACHSA) and earned my BFA from Syracuse University. But as I was going through college, I knew that my proclivities were leaning towards writing and directing. I started directing theatre and ran a theatre company for ten years, but knew I always wanted to be a filmmaker.
I got my foothold in the industry as an Executive Assistant and then a Creative Development Executive at Wondros, a production company founded by Jesse Dylan. I worked there for two years with some pretty amazing directors such as Antoine Fuqua, David O. Russell, Mark Pellington, and more. I got a lot of experience in all aspects of the filmmaking process from development to production to distribution. It was kind of my version of graduate film school. After a while, the directors and producers at Wondros encouraged me to break out on my own and pursue writing and directing my own projects- which they knew was my long-term goal.
What are the specific qualities that, in your opinion, make a film great?
Wow. If I knew the answer to that, I suppose I would be much more successful! :) To me- story and character will always be the most important thing. I love such a diversity of different films. I think there's an intangible quality to what makes a film great. And it's all quite subjective. There are movies I think are great that most people seem to loathe, and there are films that the masses seem to love that I just don't get. So, who knows. I say love the films you love, try not to let squishy tomatoes or IMDb trolls ruin your valid opinions, and support them passionately.
What films have been the most inspiring or influential to you and why?
The two films that made me want to be a filmmaker were Stanley Kubrick's The Shining and Paul Thomas Anderson's Magnolia. They're both both have touches of dark magical realism. Both films have a propulsive drive and incredible pacing- despite both being long. I love feeling starting a story in a world that seems familiar, and then having things turn and turn and turn again. Both films have monstrous creative ambition- and yet, they remain character studies throughout the more verbose sections. I saw The Shining way too young and it scared the crap out of me in a completely visceral way. Magnolia came out when I was a freshman in high school, and I remember watching it and thinking Oh my God- you can… DO THAT!? I want to tell stories like THAT.
What's harder? Getting started or being able to keep going? And what drives you to continue making films?
I think continuing is more difficult. When you're starting- before you've actually made a film- everything is wondrous possibility. Once you've been through the entire process- which is like a rollercoaster relationship every time- you know the pitfalls and traps and where things can go bad, and that can be somewhat stifling. The passion is still there- perhaps even more so- but the realities feel a bit more present and you have to fight them off.
How do you know when your story's finished, when to walk away?
That's a great question. I think when you're getting towards the end of the process, you have to just make a hard decision to be done. You have to know you did all you could, and covered every possibility, gone down every road you could with that story… You'll want to tinker and adjust forever. I think having deadlines makes it so you just have to stop…
How many films have you completed? What is your favorite project you have worked on and why?
I've written and directed two features that have been released: Locating Silver Lake (2019) and The Submarine Kid (2016). I've worked on lots of shorts, music videos, web series, and a ton of theatre. I don't think I've made my favorite project yet.
Where do you get your inspiration from?
So many different places. I've used aspects of my own life- but never done anything autobiographical, I scour news stories, read lots of books, watch documentaries, study history (which is really just a string of egomaniac human behavior), get out into the world… There's an endless supply of stuff out there. I think the decision to move forward with a project is when an idea sticks in my mind for more than a few days and won't let go. I'm not sure what pushes certain things to the top- one of those intangibles.
What is your favorite aspect of film production?
I've really come to enjoy every aspect, but I think post-production is my favorite. After the shock of not getting the exact movie that is in one's head, it's actually awesome to sit down with all the pieces you DO have- and start constructing the puzzle. The possibilities are now endless. I love moving and reshuffling and reconstructing the pieces to find the best possible way to tell the story. It's a fantastic experience.
Why did you choose to submit to the Breckenridge Film Festival? What do you look for in a festival where you hope to show your film?
The festivals I choose to submit to are either based on reputation or referrals from other filmmakers. Breckenridge has a fantastic reputation as an independent film festival and for fostering independent talent. And I mean- c'mon- who wouldn't want to go to Colorado in September!?
You are a collaborator. Did you make any connections at the Breckenridge Film Festival that have led to collaborations with other filmmakers?
Unfortunately not.
Can you describe the business behind independent filmmaking and how you are trying to get your film seen?
Oh, that could be a whole book's worth of an answer. I'll try to be brief. I think independent film is at a very interesting crossroads right now. Between piracy, the big-budget multiplex theme park films leaving little room for theatrical releases, floods of content options, and many distributors who are not doing the best job promoting their films, so much of it leans on the creators. Many of us are sort of one-man-bands just doing all we can to get our movies seen without any financial backing for marketing. That leans heavily towards social media- or if you're savvy, hiring a publicist who can get some press opportunities. I believe the most interesting and vibrant films are still being made in the independent sphere- and that they are worth fighting for. For films like Locating Silver Lake that have zero marketing budget or push from major outlets, it really becomes a grassroots operation and a word of mouth thing- and that's at the end of a multi-year journey to make the film in the first place. It's a bit exhausting, but I feel so lucky to have my work out in the world and available for people to view. It's not lost on me how fortunate I am as a filmmaker.
What are the hurdles you have had to overcome in order to recoup the costs of producing the film?
Not to give a cop out answer here, but I honestly try to stay as far away from that aspect of filmmaking as I can. Which isn't to say I am completely removed- but I do keep my distance, and purposefully limit my knowledge. With my first feature, I was heavily involved in EVERYTHING and I realized that financing and marketing are not realms where I excel. I'm very lucky to have an amazing and experienced producer in Deborah Del Prete, which allows me to step away from many of those conversations and leave those things in the hands of someone who is good at it. I found that focusing too much on the financial aspects started to take my energy away from the creative, which is my chief responsibility.
What are the next project or projects you are beginning work on?
I've got a couple things going right now. Mostly writing at the moment, though I am also editing a few projects for other creators. I am going to shoot a short soon to keep the production juices flowing. The focus is on one major screenplay and a couple smaller ones- and I am also developing a television series that I am very excited about. I'm co-writing with an experienced television writer, and I'm feeling cautiously optimistic that we're creating something fantastic. But I've found it's best not to put all eggs in one basket- so I'm writing and writing and writing, and you never know which will be the thing that jumps to the next stage. There's so much timing and luck involved with this. My job is just to be as prepared as possible for the opportunities.
If there is one more thing you think would make the film industry better, what would it be?
I wish the studios and major production companies would feel like they could take more risks on original stories. I'm getting quite tired of the franchises taking up all the space in the multiplex. I'm pragmatic enough to know that smaller, out of the box Indies aren't going to sell in a way studios will care- and there are other ways to make profitable and great independent films- but what I am REALLY missing are movies like The China Syndrome or Blow Out or Training Day or Dog Day Afternoon. The mid-budget level films that Hollywood was so damn good at making. They made money and they allowed original ideas to flourish in a safe, but completely respectable financial pocket- while giving big stars and newcomers alike the chance to flex some true creativity. Now, it feels like we get a lot of capes and a few high-profile art films for Awards, and not a lot in-between. I think the general movie going public has a lot more space for films the size of Widows, for example. I know for a fact those scripts exist. There are a ton of great ones. They just can't sell enough lunchboxes and T-shirts to get the green light anymore.
And, of course, I would love more attention paid to the independent films out there. Not the mini-studios and major production companies that win all the Spirit Awards and have all the S**dance slots- but the true Indies I saw at over a dozen festivals all over the world last year. There is some awesome filmmaking happening and I wish there was a great, vibrant, popular outlet that got those out towards the public's attention in a more major way.